" We want to live with Japanese traditional culture and nature"
We help you make this hope come true, by our professional work.
Yoneyama Teien is a group of well-skilled craftsmen trained for Japanese garden. We have a variety of skills that can design and construct a Japanese garden which makes you feel like being in Japan and connecting with the essence of Japanese culture deeply. Would you like to see an original Japanese garden constructed by us? We aim to enrich your life through our confident works.
* All photographs on this website are constructions of our work.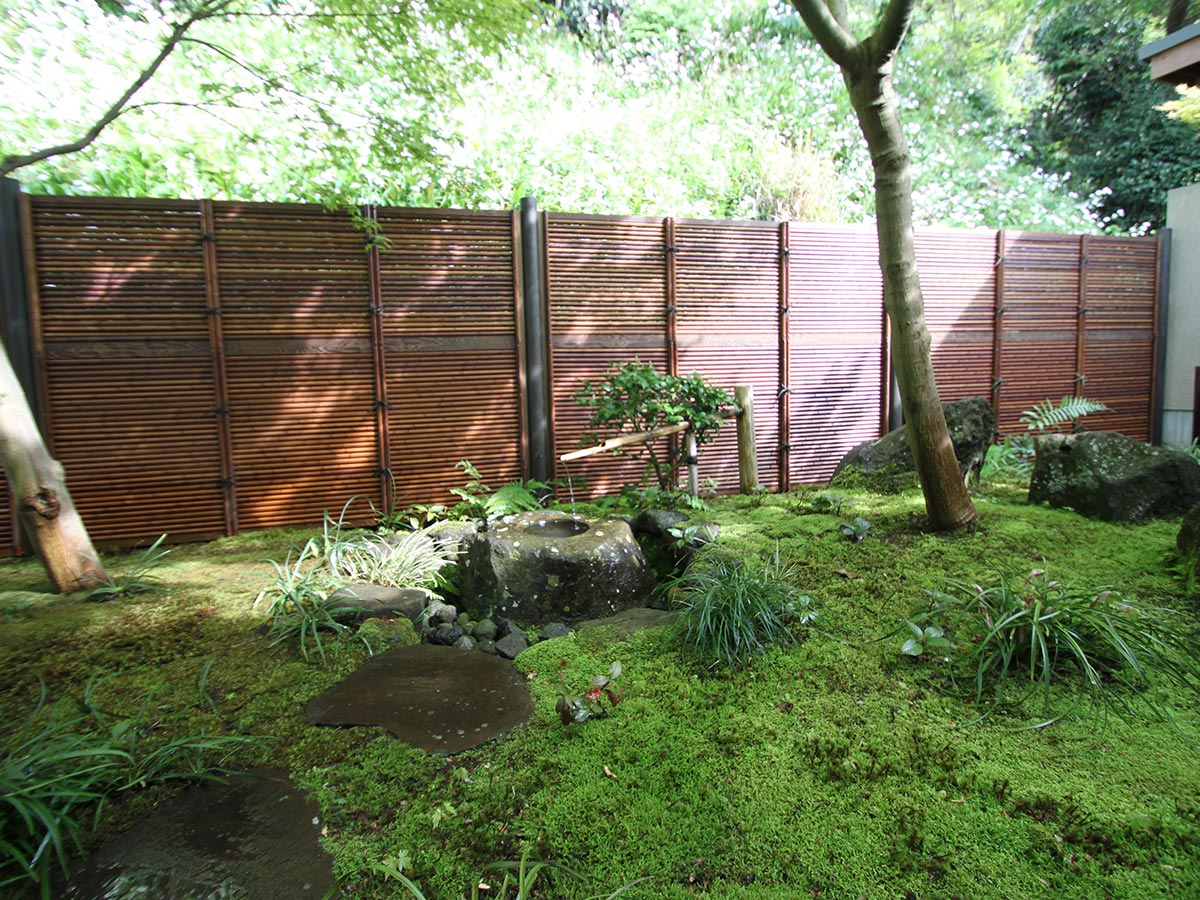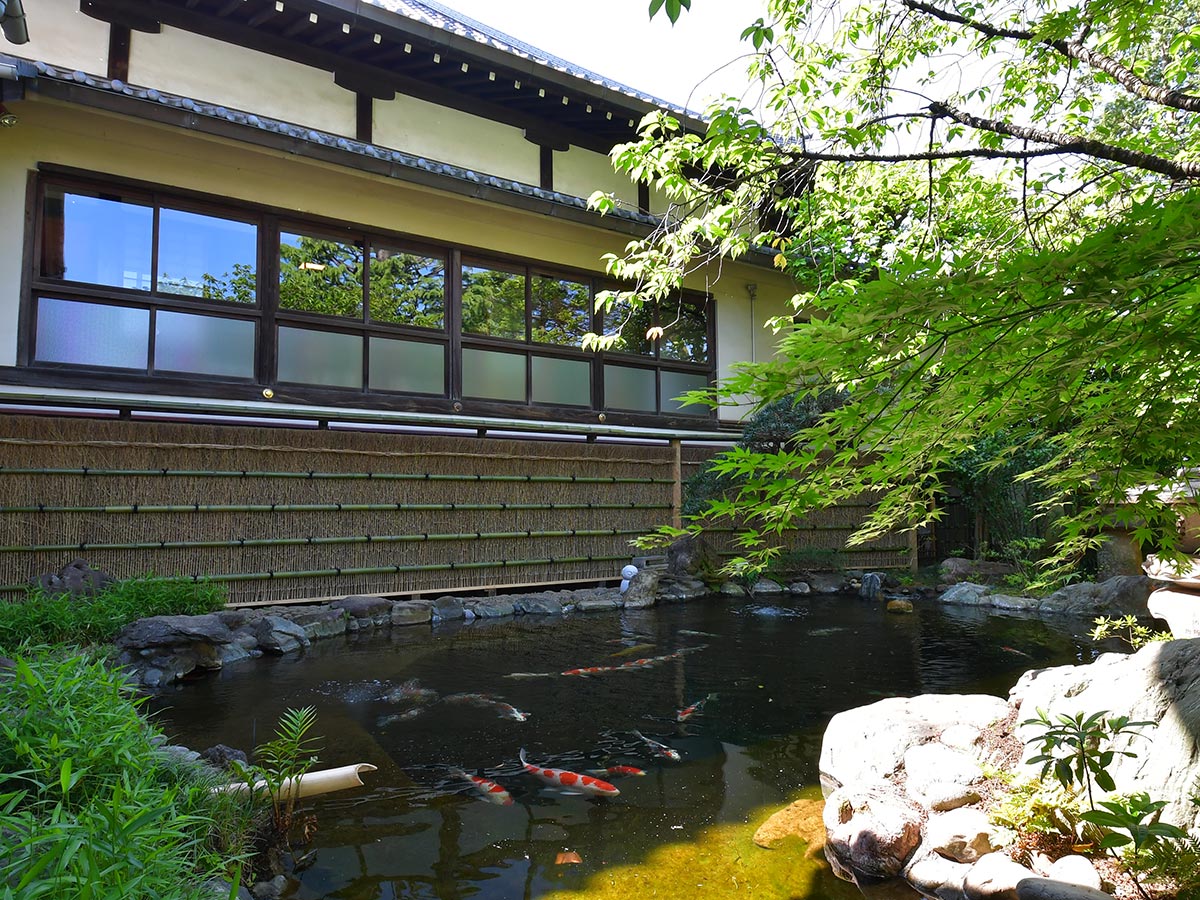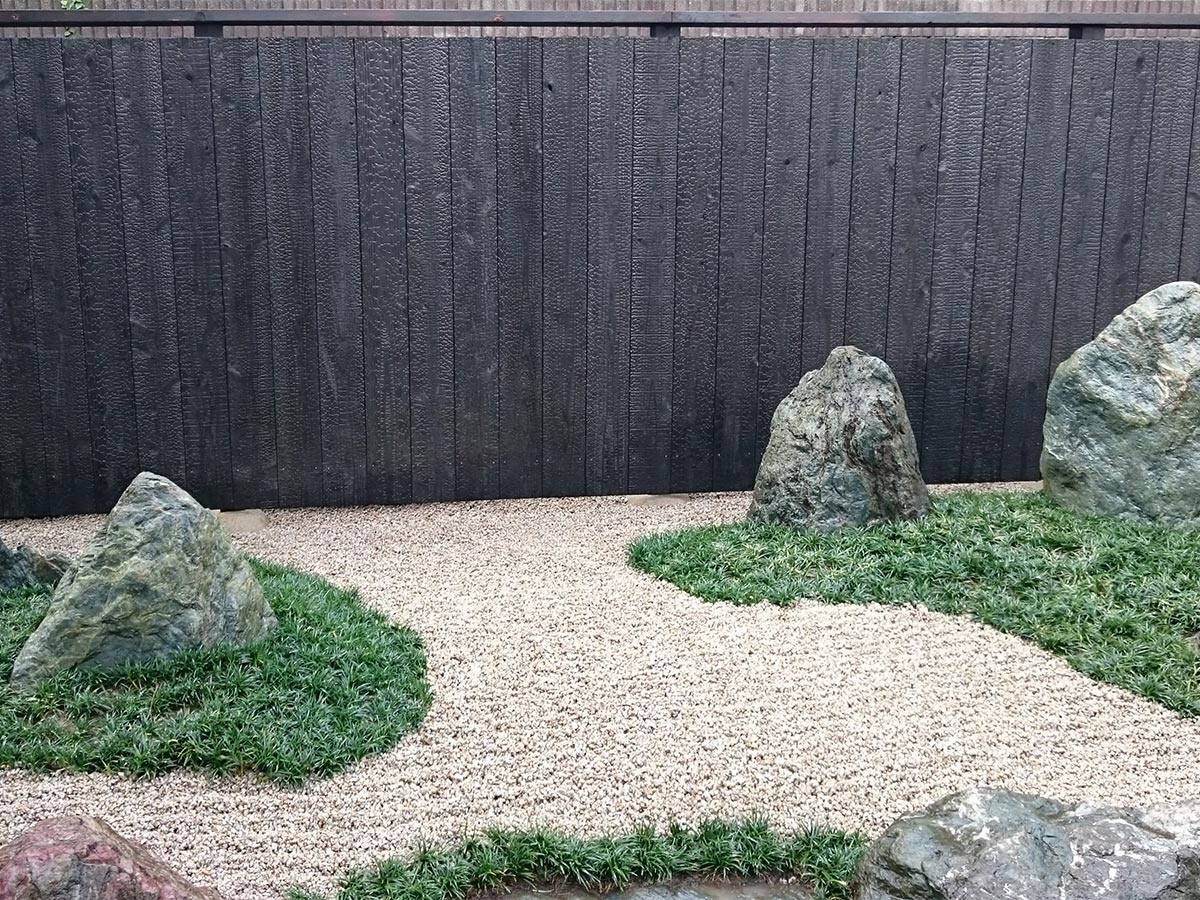 **** Index ***
Greeting from Takumi Yoneyama
Thank you for being interested in our company. My name is Takumi Yoneyama , CEO of Yoneyama-Teien. We are a total Japanese gardening company. Let me introduce myself briefly. I started my career as a gardener in 1993 and started our own company in 1999. Since then, We have designed and constructed a variety of gardens. These range from private gardens to public gardens of shrines, temples, restaurants or any facility. Our characteristic of gardening is to organize garden space by natural materials (not ready-made) and traditional gardening techniques that have been handed down from ancient times (As exception, we sometimes use a small amount of concrete material from the point of view of being earthquake resistant, since Japan is one of the most earthquake-prone country in the world). The garden made with natural materials like natural stone, soil, tree, and bamboo is kindly in harmony with each other. Furthermore, it is still not completed. The more we nurture the garden continuously, the more beautiful it will be. Garden in Kamakura or Kyoto is designed and built with natural materials and traditional techniques. That is one of the reasons that it makes us feel "historical", "wabi-sabi", and "zen". Why don't you join us in building such a traditional Japanese garden with us? It doesn't matter how big or small it is. Your love for Japan drives my imagination.
**** Profile ****
Born in Yokohama, Kanagawa, Japan on 8, DEC, 1972.
* Affiliation
A member of Kanagawa Landscape Contractors Association
A member of Garden Society of Japan
Manager of Kanagawa branch, Garden Society of Japan
* Qualification
First-grade landscape gardening work operation and management engineer (National qualification)
First-grade landscape technician (National qualification)
Second-grade lifelong learning instructor of landscape drawing
Others (Driving qualifications for various heavy machinery.)
First-grade kominka appraiser (Kominka is Japanese traditional old folk house.)
DSWA Level.2 (landscape masonry qualification in England.)
* Career history
1972 Born in Yokohama, Kanagawa, Japan
1997 Received youth excellent technician award in Kamakura city.
1999 Got First-grade landscape technician certification and became a small business owner as a gardener.
2000 Got Second-grade lifelong learning instructor of landscape drawing certification.
2003 Got First-grade andscape gardening work operation and management engineer certification
2009 Incorporated the business and started Yoneyama Teien Co., Ltd
2011 Received youth excellent technician award in Kanagawa prefecture (Rare case in 40th)
2014 Got First-grade kominka appraiser certification.
2015 Received an excellent technician award in Yokohama city.
2016 Appointed as deputy branch manager of Kanagawa branch of Japan garden association.
2017 Held training session of Japanese garden design in France.
2020 Appointed as branch manager of Kanagawa branch of Japan garden association.
* Publications
Takumi Yoneyama's works at gardening exhibition in Tsuruoka-Hachimangu, Kamakura on air by NHK.
Appeared on Kadokawa TV program (Georgia weekly : Gardener edition).
Many publications on gardening magazine "Niwa".
Works publications on Architectural magazine "Akogare-no-Yunyu-Jutaku".
published by Monthly Housing.
Many publications on local town news in Yokohama.
About Yoneyama-Teien
Yoneyama-Teien is a professional garden design and construction company founded by master of gardening, Takumi Yoneyama. Our policy is to construct a garden which has roots of local culture and focuses on landscape that is designed by using natural materials as much as possible.
Recently, modern Japanese gardens are changing from traditional style, under the influence of westernization. However, we construct gardens ,putting a high value on traditional spirit and technique. We are a specialist group who construct pure Japanese traditional gardens. Let us help you live along with Japanese culture.
* Official name
Yoneyama Teien
* Address
1-80-3 Daido, Kanazawa-ku, Yokohama, Kanagawa, Japan.236-0035
Specs of landscaping work we can do
Area : From three square meters to unlimited.
Budget : From 300,000yen to unlimited We do landscaping and constructing gardens as per your demand. Also, we do electrical & water works and additional work if you want.
Area in charge : Kanagawa east region (Yokohama, Kamakura, Zushi, Yokosuka) = We can deal with all kind of request (available from small part making to large construction)
Other region = Depending on the contents of your request. Please contact us first.
What we can construct with our technique
We construct garden with theme you want (Examples : Wabi-sabi, Zen, Kare-sansui, Tourou, Sonkyo, Pond). The following pictures are samples of gardens that we did. You can see our spirituality and technique here.
* Space design
The most important point in Japanese gardens is the composition of space. We design and construct , considering the history of the local area, shape, area, climate, direction, soil quality, and etc, so that the garden can be the best for our client.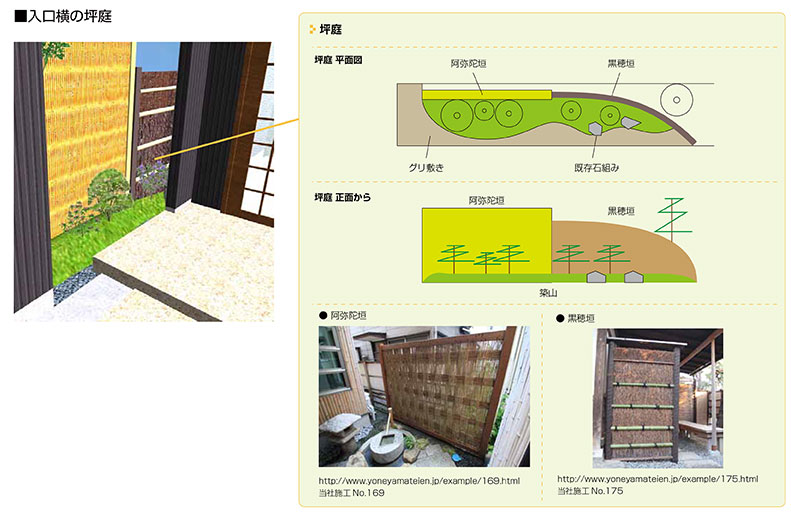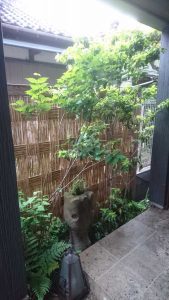 * Take-gaki (Bamboo fences)
We craft various bamboo fences with traditional techniques carried on from generation to generation. Matake (Japanese endemic bamboo) and Mousouchiku (bamboo that was introduced from China and became popular in Japan) are materials for it. To consider the natural environment, we use whole bamboo including branches and ears without waste. Design pattern of bamboo fences is various. We cover most of the design of bamboo fences in Japan. We design and construct bamboo fences to maximize the appeal of the garden of our client.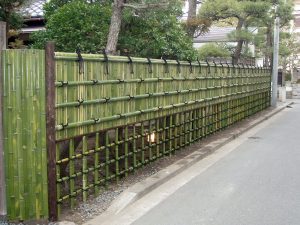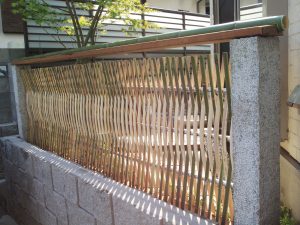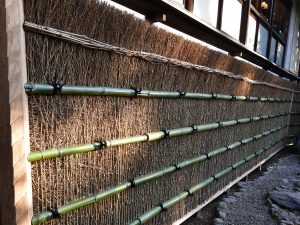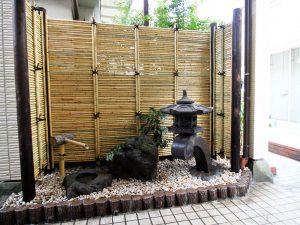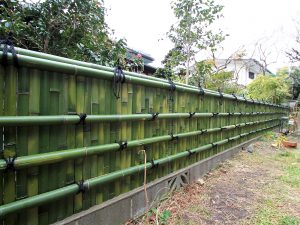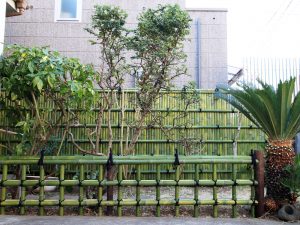 * Ishi-zumi (Masonry)
Stone fence is one of the parts of gardens where a gardener's technique is most needed. It can be seen in most of the historic sites in Japan and is an essential composition of the Japanese landscape. We are particularly good at masonry construction methods. Kind of stones and the way of stacking stones changes the expression of the garden. We are well-experienced and confident of masonry that can be matched with other compositions the most, not only one structure. We can also construct angled masonry called Shiroishi-zumi, which can be seen in many Japanese castles.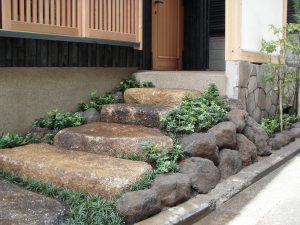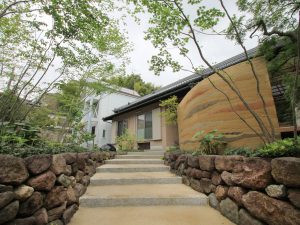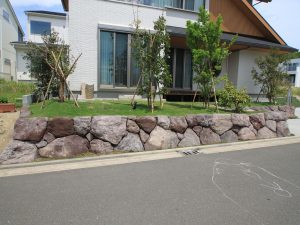 Pond / Flow (Small river) / Fall
Many Japanese gardens are the epitome of Japanese landscape with some themes. Gardens with water, one of the important composition elements of the Japanese landscape, have been constructed all the time. In the present day, the premise is small and it is hard to construct ponds and small rivers in the area. However, the sound of murmuring water and the carp swimming in the pond make us feel like a Japanese garden. Especially, a pond with a thin water depth reflects a variety of landscape and makes the garden more impressive.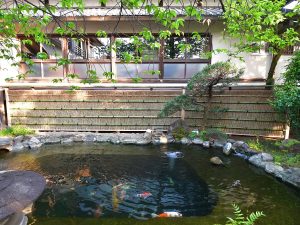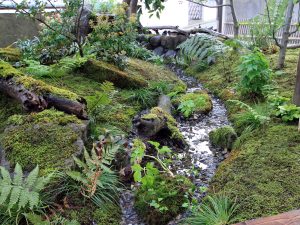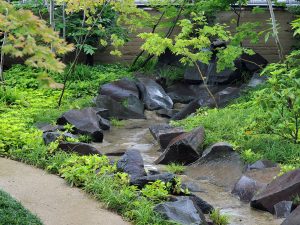 * Kare-sansui
Kare-sansui is the way of the garden that expresses the landscape with mountain and water by using stone and sand only, not water. For example, the garden of Ryoanji is famous. Adding ripples on white sands by rake, It looks like the surface of the water. Even if it is not that large, you can construct Kare-sansui at home. Necessary technique to construct Kare-sansu is the ability of space design and choices. Only a well-experienced gardener can make a landscape with stone and sand only.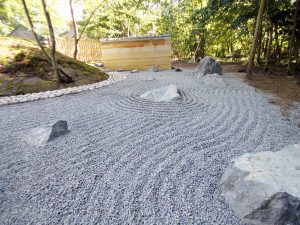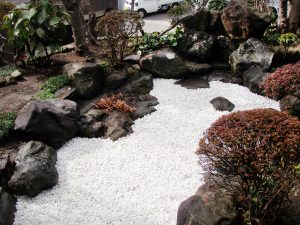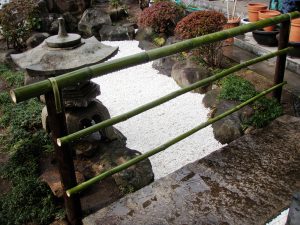 * Sanzon-seki
Have you seen a Japanese garden landscape with a combination of three stones? Its combination is called Sanzon-seki and it means Buddah of Buddhism that Japanese have believed for a long time. It looks like it is just a combination of three stones. But it is a composition element that requires high technique, from the point of view of a gardener. Because the choice of height, shape, color and combination is limitless and the right choice doesn't exist. By setting three stones well, the landscape can be more beautiful and flesher with harmony.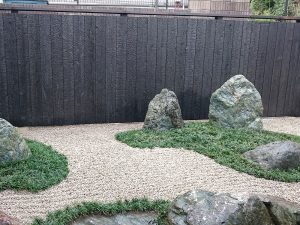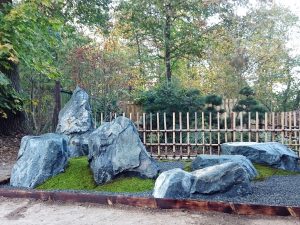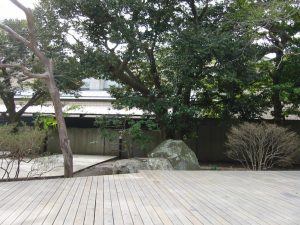 * Tourou (Japanese Lantern)
Tourou (Japanese Lanterns) are lightning equipment introduced from old China. It is made of stone, strong for rain/wind, and no worries about fire. So it spread all over Japan. The earliest one is enough only if it lights on. However, as time goes by, design has been added year by year and in the 7th century around, it has become the basic shape of Tourou of the present day. Tourou is the element that can produce the most promising Japanese landscape. There are many choices of styles, size, and price. So we support you so that you can make the best choice together. (As the structure is vulnerable to earthquakes, we consider countermeasures for it together as well).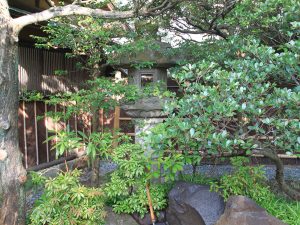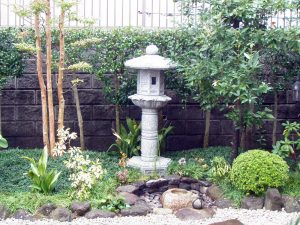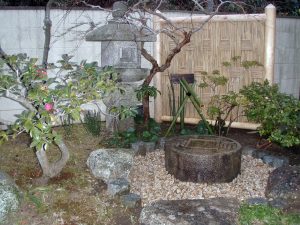 * Tsukubai / Suikinkutsu
Tsukubai is the essential structure to get water in the tea garden and installed as one of the facilities in Japanese gardens. Stone plates filled with water and arranged stones are landscapes of Japanese culture itself. We have high techniques at designing and constructing Tsukubai and support clients who want to install Sonkyo. Suikinkutsu is a structure that echoes the sound of falling water droplets and produces a beautiful tone that we can't explain with words. Its structure is made by digging a hall under the drain of Tsukubai and putting large pottery upside-down. From about 200years to several decades ago, it was made with high techniques carried on by gardener from generation to generation. We support constructing the Sukinkutsu.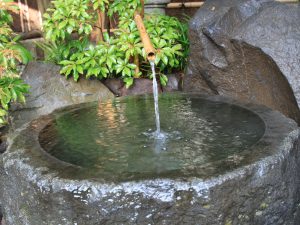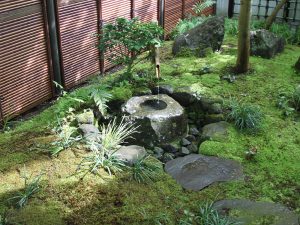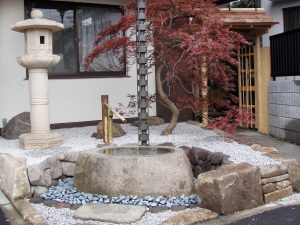 * Koke-niwa (Moss garden)
In Japan, Humidity and temperature is suitable for growing moss. So there are beautiful moss gardens all over Japan. We are also good at designing and constructing moss gardens. Depending on the surrounding environment, we choose the best kind of moss from a variety of mosses. Moss plants are being studied in space.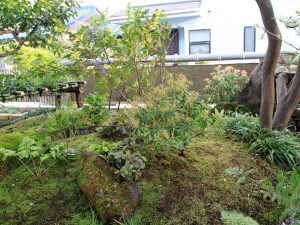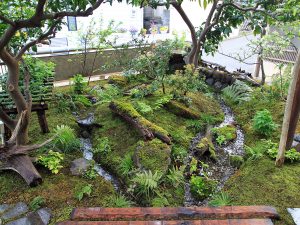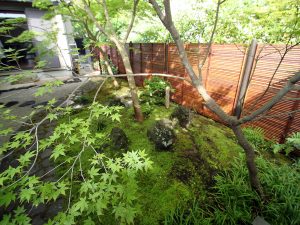 * Hanchiku-Dobei (Rammed earth wall)
Hanchiku-Dobei is a rammed earth wall. Horyu-ji and Ryoan-ji in Japan and the Great wall in China are famous for this construction method. We are good at the method. We have a wide range of style of wall from classic one with rustic look to designated one like mural with a pattern.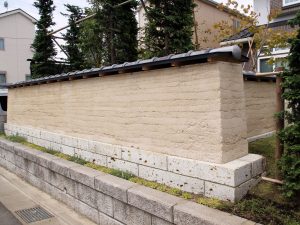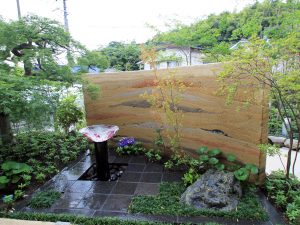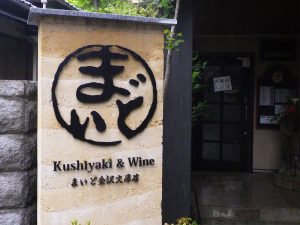 Where you can see our design and construction technique
It is not surprising that you can't tell the atmosphere of the garden from pictures on the web. Though we can't introduce gardens of individual homes with the highest number of our constructions due to their privacy, you can go and see our work, in some restaurants and temples. Please visit our works and see mentarility and the technique of Yoneyama Teien's constructing garden.
* Matsubara-an, Yuigahama
Matsubara-an is a soba restaurant made by renovating an old folks house built around 1940. We were engaged in space design and construction. Continuously we keep supporting pruning. Please see if our technique can match with your ideal, while having delicious soba.
*We designed and constructed the garden of both the main store and branch. We recommend you to see the garden of the main store.
* Kadomatsu in Eastern Japan area of the FONZ group that they manage is made by Yoneyama Teien.
Matsubara-an official Web site (only in Japanese language)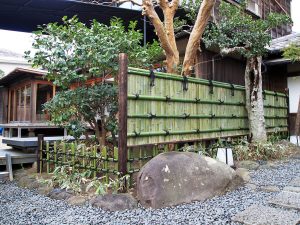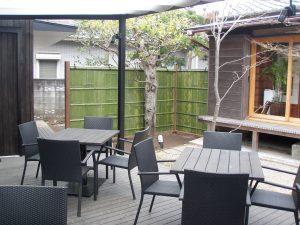 * Chosho-ji, Yokohama
We were engaged in the garden repairing construction. We designed the garden, making the best use of about 40 Kitayama-Osugi cedars growing in precincts for 250years.
Chosho-ji official Web site (only in Japanese language)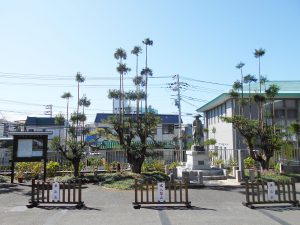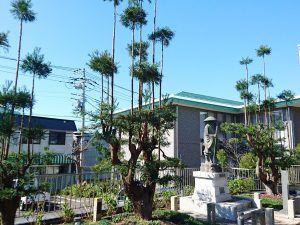 * Kantsu-ji, Tokyo
We were engaged in the main garden repairing construction. We re-constructed ponds, re-arranged planting and constructed a Daitokuji-gaki as partition. Daitokuji-gaki is especially a valuable bamboo fence that is hard to make.
Kantsu-ji official Web site (only in Japanese language)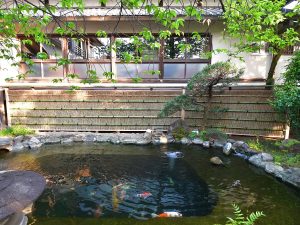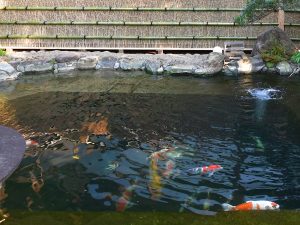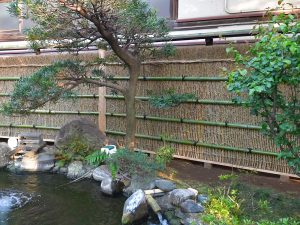 Message from CEO
If you want to construct a Japanese garden, please kindly contact me. I always would like to support people that highly respect Japanese tradition and landscape, and construct gardens for such people. Also I keep learning about gardens so that I can support them construct gardens when time comes. Where I do daily work is also a place to train my techniques while constructing Japanese gardens. I belong to the Garden Society of Japan and am a branch manager of the Kanagawa branch. We are inspiring and enhancing each other with like-minded people.
Now the landscape company with a Japanese traditional mentality and techniques is getting less. There are no borders in the feeling of love for Japanese gardens. The most important thing is only one thing, to love Japanese gardens. I design and construct gardens with mentality and techniques carried on, for the people loving Japan from the bottom of their heart.